reinventing jewels
Reinventing Jewels è la filosofia creativa che guida il progetto che portiamo avanti da anni e che si realizza nel recuperare il piacere del gioiello come piena espressione di sé e non solo come accessorio.
Nel nostro laboratorio immaginiamo, sperimentiamo e giochiamo con nuove forme, colori e materiali per realizzare gioielli unici e originali.
Testimonial
Indossare delle creazioni così splendide è un vero privilegio! Grazie... rinnovo i miei complimenti per l'estro, la cura e le coccole per il cliente.... Al prossimo acquisto e buon lavoro! Continuate così!!!

Alessia Gattuso, Roma
Your wonderful jewelry has arrived some days ago.  The rings, the necklaces and the bangle are amazing. Unique pieces - so well done. And it was a joy how lovely the items were wrapped. Thank you very much! 

Jeanine Cujé-Bartsch, Hannover, Germany
La collana è arrivata, è bellissima. Grazie!

Marina Cazzola, Pavia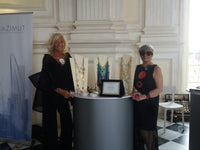 Who we are
Who we are
From the meeting of two art lovers, Nicoletta Biglia and Rita Bellino , the idea was born to create unique, innovative jewels that represent a change in the way of seeing jewelry. This idea is realized in the Scialabà art laboratory; Jewels in via Collegno, 45 in Turin, where unique pieces entirely handmade are born.
Each piece is studied with attention to the smallest details to be unique and conquer the viewer.


Reinventing Jewels
It is our creative philosophy present in every project that we have been carrying out for years that is specific in recovering the pleasure of the jewel itself; and not just as an accessory.
In the fashion field our jewels show is protagonists as at the Turin Fashion Week 2019 where the Scialabà atelier was awarded the "Best Raising Talent" Scialabà; Fashion strong>
Scialabà takes part in the Turin fashion scene. We have created bespoke jewelry for the Barolo Fashion Show 2017, 2018 and 2019 and Torino Fashion Week 2019 collections, as well as collaborating with young and established stylists.
We are working on the collection that will be showcasing at the Turin Fashion Week 2020
Torino Fashion Week

Best Rising Talent
Important collaborations

Diego Dalla Palma Nouba advertising campaign
Scialabà Jewels

Smile is our energy
"The Exhibition" fashion show

Preview Fashion Week
Top Model

Models from all over the world for Scialabà
Reinventing Jewels

Our philosophy
Torino Fashion Week
Best Rising Talent
Important collaborations
Diego Dalla Palma Nouba advertising campaign
Scialabà Jewels
Smile is our energy
"The Exhibition" fashion show
Preview Fashion Week
Top Model
Models from all over the world for Scialabà
Reinventing Jewels
Our philosophy